John Booker isn't a native of Guernsey; he arrived on the island right before the start of the war as a servant to
Lord Tobias
. Lord Tobias wanted to wait out the war on the island, but left as soon as the Germans bombed Guernsey. Booker, however, decided to stay: he loves alcohol, and Lord Tobias was unable to take the contents of his wine cellar with him. After a few months, Booker became friendly with
Elizabeth
and
Amelia
, as they'd heard his mother was Jewish and wanted to warn him that the Germans were registering Jews. To help him, Elizabeth concocted a plan for Booker to impersonate Lord Tobias and even painted his portrait. The plan worked, and Booker spent three years drinking wine and pretending to be Lord Tobias. He's a member of the Literary Society and is partially responsible for its inception: his drunken singing caused him,
Dawsey
, and Elizabeth to be discovered by the Germans after
Amelia
's pig feast. He attends Society meetings regularly, but only reads Seneca the Younger's book
The Letters of Seneca
over and over again. He finds the letters witty and applicable to his life. Other Society members often mention trying to get Booker to read something else, but nobody is successful in this endeavor. Right before
Juliet
comes to Guernsey, Booker writes to her about what happened after he was discovered to be a fraud. He was sent to Neungamme and then to the Belsen concentration camp, where he was made to first run through fields to clear them of live bombs and then dig mass graves for dead victims of the concentration camps. Though he cannot speak about this trauma, he has a full life in the present. His time as Lord Tobias instilled in him a love of acting and he acts in several local productions.
Isola
also admits to Sidney that Booker is gay.
Get the entire The Guernsey Literary and Potato Peel Pie Society LitChart as a printable PDF.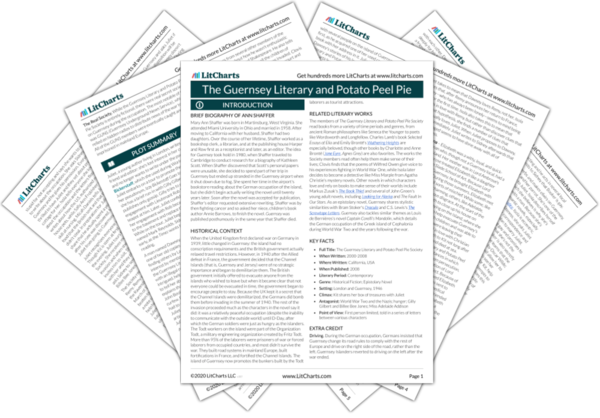 John Booker Character Timeline in The Guernsey Literary and Potato Peel Pie Society
The timeline below shows where the character John Booker appears in The Guernsey Literary and Potato Peel Pie Society. The colored dots and icons indicate which themes are associated with that appearance.