Sidney is
Juliet's
editor at the Stephens & Stark publishing house and her longtime personal friend. He's witty, self-important, and often does his best to behave like an obnoxious older brother. This is because Sidney has known Juliet for about 20 years, as Juliet's best friend from school is Sidney's sister,
Sophie
. Sidney is also gay, though many people who don't know this believe that Sidney and Juliet are in love with each other. Despite Sidney's self-importance, he cares deeply for his friends and loved ones. He flies to Australia when a friend and possible lover,
Piers
, shows up there after they all thought he'd died in the war. Sidney often acts as a mentor for Juliet; he gives her permission to abandon her project that would've been written under her pseudonym,
Izzy Bickerstaff
, and later, he gives her direction on her book about the German occupation of Guernsey. He also provides romantic and personal advice and takes great offense to Juliet's romance with
Mark Reynolds
. Sidney believes that if Juliet married Mark, she'd never write another book and her independence would disappear. He believes this would be a tragedy and does everything in his power to annoy Juliet about Mark, mostly by including photos of Mark dancing with other women when he sends Juliet letters. Juliet begins sharing her letters from Guernsey with Sidney while he's in Australia, and she continues to do so when Sidney returns to London. This leads Sidney to come to love and care for the islanders as much as she does; he actively mourns when he gets news of
Elizabeth
's death. Though he only visits the island twice, he and
Isola
become close friends. He gives her eccentric gifts, like a cuckoo clock and a book on phrenology, which she adores. He also sends lavish gifts for
Kit
and for his nephew,
Dominic
, who are around the same age. When Juliet and
Dawsey
get engaged, Juliet asks Sidney to return to Guernsey to give her away at her wedding.
Sidney Stark Quotes in The Guernsey Literary and Potato Peel Pie Society
The The Guernsey Literary and Potato Peel Pie Society quotes below are all either spoken by Sidney Stark or refer to Sidney Stark. For each quote, you can also see the other characters and themes related to it (each theme is indicated by its own dot and icon, like this one: ). Note: all page numbers and citation info for the quotes below refer to the Dial edition of The Guernsey Literary and Potato Peel Pie Society published in 2008.
Get the entire The Guernsey Literary and Potato Peel Pie Society LitChart as a printable PDF.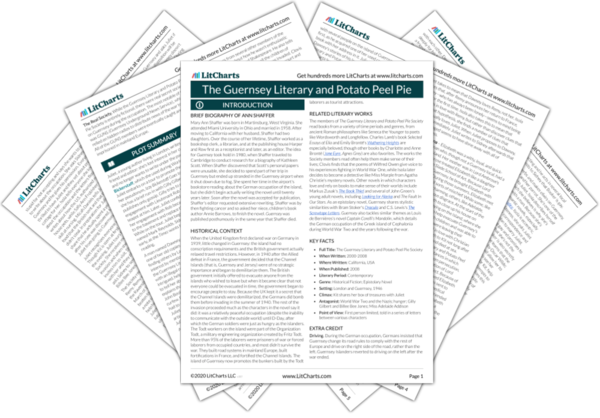 Sidney Stark Character Timeline in The Guernsey Literary and Potato Peel Pie Society
The timeline below shows where the character Sidney Stark appears in The Guernsey Literary and Potato Peel Pie Society. The colored dots and icons indicate which themes are associated with that appearance.