The Guernsey Literary and Potato Peel Pie Society follows Juliet, a London author, as she strikes up a correspondence with Dawsey Adams and other residents of the island of Guernsey. It's 1946, almost a year after the end of World War Two, and as England begins the work of putting the country back together, Juliet becomes fascinated by Guernsey residents' stories of the German occupation of the island and how the islanders dealt with it. In particular, Juliet is fascinated by the origins of the Guernsey literary society and the impact the Society had and has on its members. As Juliet conducts research for a series of articles and eventually a book on the German occupation of Guernsey, the novel explores the power of literature to connect people to each other and provide support during difficult times.
From the start, books themselves are held up as symbols of connection. Dawsey initially writes to Juliet about his used copy of Charles Lamb's essay collection The Selected Essays of Elia, which Juliet used to own and wrote her contact information in. He asks her for assistance in finding a bookseller capable of tracking down and shipping more of Charles Lamb's work to Guernsey, thus beginning Dawsey and Juliet's friendship. In their early letters, Juliet and Dawsey write about their shared love of Charles Lamb's life and work and Juliet follows through with connecting Dawsey to a bookseller in London. These early stages of their relationship illustrate how a shared interest in literature can provide a point of connection for two total strangers and, in turn, open them up for a true friendship to form.
While Juliet and Dawsey's friendship serves as an introduction to the connective possibilities of literature, Dawsey's offhand mentions—and later, his and others' detailed descriptions—of the Guernsey Literary and Potato Peel Pie Society take this a step further. The Society came into being one night during the German occupation, when Amelia Maugery invited several Guernsey residents to an illicit feast of roast pig and, while returning home, several of her guests were caught out after curfew. Quick-thinking Elizabeth McKenna told the German soldiers that they'd been at a meeting of the local literary society, gave a membership list, and even invited the Germans to join them for their next meeting. This necessitated the formation of the Society in order to save themselves from persecution and cover up the roast pig. Several of the members who write to Juliet about the Society, including Amelia, John Booker, and Eben Ramsey, admit outright that most of them weren't friends and weren't even all that interested in literature prior to the birth of the Society. However, they all stress that the friendships they formed through the Society and the ideas they discovered through reading were what enabled them to make it through the occupation.
The most potent example of literature's ability to connect people is that of Elizabeth herself. Elizabeth spent her childhood summers on Guernsey and as an adult just before the war, came to the island as part of Sir Ambrose Ivers's household. Rather than flee with him when the Germans invaded, she chose to stay and become a nurse, and eventually became a valued member of the community. Her quick thinking in inventing the Society saved a number of people from death in concentration camps and earned her the respect and friendship of the members of the Society—respect and friendship that they later return to her. After the Germans send her to a concentration camp for attempting to save one of the Todt laborers on Guernsey, they band together to care for Kit, Elizabeth's toddler daughter. In this way, the novel suggests that Kit has literature to thank for the happy life she leads, cared for by the various members of the Society in turn. In the novel's present, she also owes her impending adoption by Juliet and Dawsey to Dawsey's first letter to Juliet—a letter that set off a string of events that brought Juliet to Guernsey, Dawsey, and the discovery of a robust community bound by a shared love of literature.
Related Themes from Other Texts
Compare and contrast themes from other texts to this theme…
Literature and Connection ThemeTracker
The ThemeTracker below shows where, and to what degree, the theme of Literature and Connection appears in each chapter of The Guernsey Literary and Potato Peel Pie Society. Click or tap on any chapter to read its Summary & Analysis.
How often theme appears:
chapter length:
Get the entire The Guernsey Literary and Potato Peel Pie Society LitChart as a printable PDF.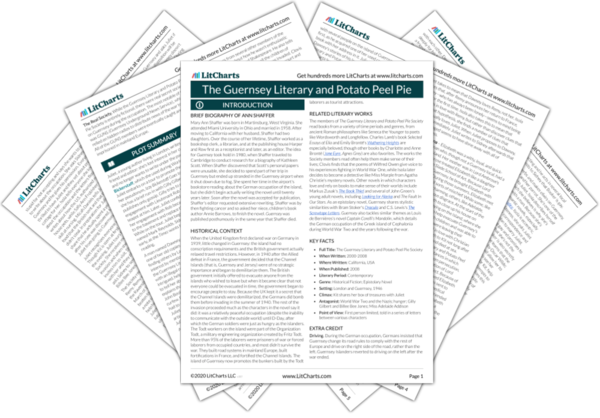 Literature and Connection Quotes in The Guernsey Literary and Potato Peel Pie Society
Below you will find the important quotes in The Guernsey Literary and Potato Peel Pie Society related to the theme of Literature and Connection.