The memoir's narrator,
Robyn Davidson
, arrives in the town of Alice Springs in the Australian outback. She has with her only one suitcase, six dollars, and her beloved dog,
Diggity
. She has traveled there from her comfortable life in Queensland with the idea of finding and training wild camels, in order to take the camels on a trek across the desert. Though she feels confident at first, Davidson also wonders if her plan is a "lunatic idea."
Even from the start, Davidson frets about the lack of reason and order in her planned trek. She senses that its uncertainty is somehow crucial, and yet the "lunatic" nature of it also troubles her. This opening moment of solitude as Davidson prepares to meet the residents of Alice Springs also underscores the tension between individuality and collectivity that will pervade the book.
Davidson
thinks to herself that Alice Springs is ugly and uncomfortable, although the landscape surrounding the town is beautiful. She has planned to camp with some Aboriginal people, but all the white people she meets warn her against these people, whom they refer to as black. Davidson learns that the residents of the town consider Aboriginal people to be lazy, unintelligent, and dangerous. Davidson wonders whether she should also fear the Aboriginal people or if the white residents are paranoid.
Davidson's first impressions of Alice Springs are tied up in her observations of its racial tensions. The discrimination against the Aboriginal people is immediately apparent, while Davidson also senses that there may be more to their culture and the simplistic stereotypes placed on them by white people.
Davidson
goes on to describe the town, which is made up mostly of government workers and people who run businesses catering to tourists. She meets a group of young people who are happy to let her stay with them, but then discovers that they, too, are racist. Soon thereafter, she gets a job at the town pub and is able to rent her own room in the back. She also asks around town about finding camels and is told that there are three men who might be able to help her.
Even at this early phase, Davidson's highly individualistic quest relies on support from others, but the racist ideas of the group she falls in with also highlight the ways that other people might corrupt Davidson's (still murky) intentions for the trip.
Soon thereafter,
Davidson
goes to meet the first camel-man,
Sallay Mahomet
. Sallay is confident working with the animals, but he sees how unprepared Davidson is for her trek and refuses to work with her. The next man doesn't seem to be in control of his camels, so Davidson goes on to the third camel-man, even though some people tell her that he is "a maniac."
Davidson's struggle to find a strategy for learning about camels hints at how difficult it will be to turn the chaos of the world around her into the order that she desires. The rumors about Kurt are also the first sign that Davidson's identity as a woman may be a liability in Alice Springs.
Get the entire Tracks: A Woman's Solo Trek Across 1700 Miles of Australian Outback LitChart as a printable PDF.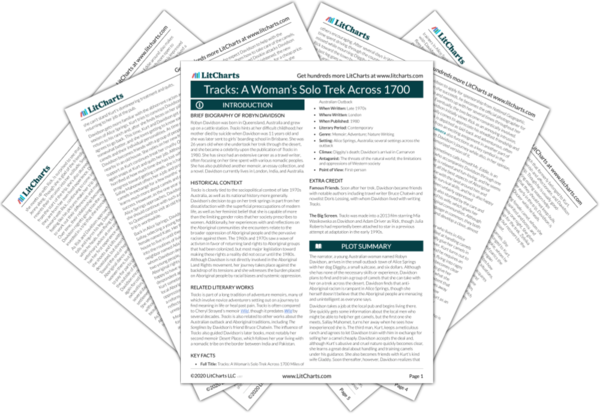 Davidson
meets
Gladdy
, who runs a camel ranch with her husband,
Kurt
. Davidson is impressed by the property and quickly takes a liking to Gladdy, but does not meet Kurt at first. Gladdy says that she doesn't think there's anything wrong with the "blacks" in town, which pleases Davidson. The next day, Davidson meets Kurt, who turns out to be a harsh, domineering German man with perfect control of his camels. He agrees to allow her to work as an apprentice for eight months in exchange for a one-eyed camel to take on her trip.
Paradoxically, gaining the independence she craves forces Davidson to submit to domination by Kurt, which suggests that independence and interconnection may not be as opposed as Davidson seems to think. Gladdy's relatively progressive attitude toward the Aboriginal people also shows Davidson that more complex thinking about racial issues is possible and desirable.
Although she suspects that
Kurt
is ripping her off,
Davidson
works for him for some time, cleaning up after the camels and keeping the farm organized. Kurt proves to be volatile, but Davidson stays because she admires his work with the camels, who, she quickly learns, are very intelligent and affectionate when trained correctly.
As her relationship with Kurt continues, Davidson begins to see how her status as a woman means that he expects her to tolerate unlivable conditions. At the same time, her increased knowledge about the camels begins to suggest that, with the right understanding, something chaotic like a wild camel can actually turn out to be comforting and reliable.
Davidson
learns a great deal about working with camels from
Kurt
, although she wonders whether she can tolerate his abusive behavior for eight months. She thinks that she would like to stand up to him but doesn't know how, which she calls a "female syndrome." Finally, she snaps and tells Kurt that she's finished working for him. The next day, Davidson moves back into the pub.
Here, Davidson reflects on how her social conditioning as a woman keeps her from being as assertive as she wants to be, and allows Kurt to treat her abusively. Breaking ties with Kurt is one way for Davidson to maintain her individual identity, but at the same time, cutting herself off from his support is a significant setback in terms of preparing for the trek.