While continuing to feel depressed over
Kate
's death,
Davidson
also becomes more and more afraid of
Kurt
, who grows increasingly erratic. She feels defeated, knowing that there will always be someone like Kurt in the world. She feels melancholy all the time except when her friends visit, but she nonetheless struggles to tell them how desperate she feels.
The sense that some version of Kurt will always get in the way of Davidson's plans demonstrates how, at this point, Davidson views her female identity as something that holds her back rather than supports her. This sense of overall defeat makes even her close friendships less helpful, which again illustrates the complex interplay between individual fortitude and collective strength.
Gladdy
eventually leaves
Kurt
, and though
Davidson
is happy for her, she feels even more frightened knowing that she will soon be alone with him when Gladdy leaves town. One night, Davidson's depression and sadness about Kate overtake her and she briefly contemplates suicide. However, Gladdy interrupts Davidson's thoughts, and Davidson thinks with horror that she must never contemplate suicide again. Gladdy moves away and leaves her dog
Blue
with Davidson.
This incident demonstrates both the dangers inherent in being a woman and the way that friendship, particularly with other women, can help mitigate those dangers. Gladdy and Kate each face an emotional crisis and get through it with support from each other, for which Davidson is thankful even though her circumstances remain frightening.
When
Kurt
realizes that
Gladdy
is gone, he becomes more furious than ever with
Davidson
. To her surprise, her brother-in-law calls Kurt and offers to buy his ranch, which leads to several weeks of Davidson trying to keep Kurt subdued while he becomes more and more abusive. Then one morning, Kurt vanishes, having secretly sold the ranch and its camels to some strangers who know nothing about camels. He also told the buyers that Davidson would teach them how to care for the camels. She tells them that she will do so in exchange for two of the camels, but they back out of the deal after several weeks, leaving Davidson frustrated and angry.
Kurt's arbitrary, unreliable behavior demonstrates the negative side of relying on other people for support. While Davidson would not have been able to get ready for her trip without Kurt's help, his cruel and irrational actions also impede her goals. This experience further complicates Davidson's feelings about involving other people in her trip, even though relying on others has been necessary at several points.
On one of
Davidson
's last days at the ranch, a young, normally sweet bull camel named
Dookie
goes berserk and attacks Davidson, showing how dangerous bull camels can be during mating season. Davidson makes it through the incident and convinces the buyers that bulls always act like that, which leads them to sell her Dookie and another bull,
Bub
, for a low price. Davidson brings them home to Basso's farm.
Dookie's sudden change in behavior serves as a symbolic representation of how thin the line between chaos and order can be. Dookie usually seems tame but quickly turns wild, showing how things that seem orderly might hide chaos, and vice versa.
Get the entire Tracks: A Woman's Solo Trek Across 1700 Miles of Australian Outback LitChart as a printable PDF.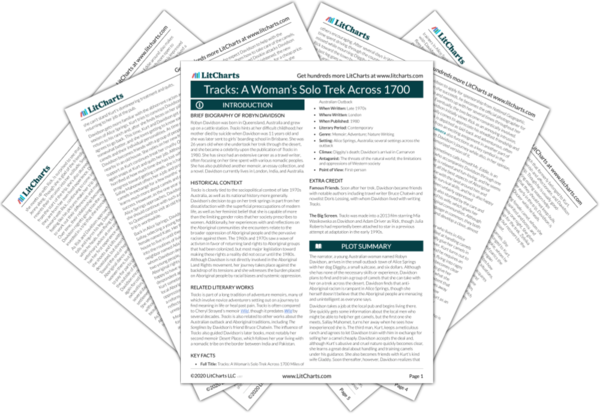 In the weeks that follow,
Davidson
contends with annoying buyers who visit to see the farm, as well as interfering police officers who tell her she doesn't have a chance of succeeding in her journey. Another friend,
Julie
, comes to live with her, and she begins to see how comfortable life can be with a home and friends. She wonders if she is becoming so comfortable that she won't go through with the trip. At the same time, she feels herself becoming somewhat mean and intolerant, and wonders if the traditional outback value of fierce individualism is the cause.
This period is an especially vivid depiction of Davidson's struggle between embracing interconnection with others and rejecting it in favor of self-reliance. Her friends comfort her, but even the comfort is uneasy, as Davidson remains allured by the dream of complete independence while also knowing that this is impossible in the real world.
During this time, the dog
Blue
is poisoned and dies, and
Davidson
learns that several other dogs in Alice Springs have also been killed by an unknown person. Sadly, she thinks that such a trend is hardly surprising in a town like Alice Springs. The farm becomes increasingly infested with cockroaches and snakes, but she tries to focus on the positive things in her life and feels grateful for her friends, wondering if maybe all her strokes of bad luck are behind her. She also spends a lot of time tracking her three camels—who can go a long way even when hobbled—and gets to know each of them better, learning to enjoy their individual personalities.
The fact that Davidson isn't surprised that such barbaric behavior is common in Alice Springs shows again how the comforts of orderly society might not really be so rational after all. At the same time, her growing bond with her camels gives her a new avenue to work toward finding connection with others; throughout, her bonds with animals are simpler than her bonds with people.
One day,
Davidson
discovers that
Bub
has a shard of glass in his foot and is terrified that he will end up dying from the injury. With the help of her friends, she devotes herself to caring for him and he slowly heals. However, soon thereafter, all three camels run away together into the hills near the farm. Davidson tracks them for miles but eventually gives up, returning the next day via a light aircraft flown by some kind acquaintances from town. When they don't find the camels, Davidson grows despondent, thinking that maybe the loss of the camels is a sign that she should give up on the trip. She even wonders if that might be for the best. But at the last minute, Julie spots the camels, and Davidson decides once and for all that she must resolve to go through with the journey.
Tellingly, Davidson's ultimate resolution that she has to go through with the trip depends almost completely on kindness and support from others, even from people who aren't close friends. By accepting their help and allowing them to guide her toward making the trip a reality, Davidson begins to internalize the idea that the seemingly independent undertaking of her trip actually relies heavily on other people; it's not as easy to separate the two as she once thought.