Having seen the camels from the air,
Davidson
sets out on foot with
Jenny
and
Toly
to capture them. Although she is at first confident of their course, the group quickly becomes lost and Davidson is alarmed at how easily her sense of direction fails her, worrying about its consequences for her upcoming trek. Eventually, they do find the three camels and return them home. Davidson also notices that
Bub
's foot is nearly healed, to her relief.
Again, Davidson relies on her friends at a crucial moment in her journey, while simultaneously bemoaning the fact that she's not able to handle everything on her own. At this point, she still views independence and interconnection as opposites, rather than linked realities.
Now that
Davidson
has settled on the trip once and for all, she is intimidated by how much work she'll have to do to prepare and how much money she will need for supplies. One day, a friend arrives with a young photographer,
Rick
, who takes pictures of the farm, Davidson, and her camels. Rick tells Davidson about his career as a photographer and convinces her to write to
National Geographic
to ask for sponsorship for her trip. Davidson writes the letter immediately, while drunk, and then forgets all about it.
Rick's appearance is a key moment in Davidson's process of accepting that other people will have to play roles in her seemingly lonely journey. Her careless approach to contacting
National Geographic
also hints that instinct can be as powerful a guide as careful, orderly planning, a concept that Davidson will struggle to accept going forward.
Davidson
turns her attention to building packs and saddles for her trip. With her friend
Toly
's help, she slowly learns how to make and fix the equipment she will need for her trip, although the skills do not come naturally to her and she sometimes finds the process agonizing. As she gets more and more anxious, Davidson's friends convince her to go on vacation for a week, but while she is away,
Zeleika
gives birth to a calf: the adorable baby
Goliath
.
This sequence is a particularly vivid example of how Davidson's attempts to regulate and control the world around her are doomed to fail. Even Goliath's birth goes against her plans, coming at the exact time that she's not there to witness it. The more Davidson tries to bring order to her preparations, the more (seemingly) chaotic they become.
As her preparations continue,
Davidson
decides that she will leave in March, about four months later. She decides to do a trial trip in a month by trekking the camels to a nearby Aboriginal settlement called Utopia, where
Toly
is a teacher. She diligently prepares for the trip, and eventually she and the camels depart for Utopia alongside
Jenny
and Toly.
Ada Baxter
begs Davidson not to go, saying that she will certainly die, but Davidson leaves nonetheless.
The contrast between Jenny and Toly's positive attitude and Ada Baxter's negative attitude shows how complicated it can be for other people to get involved in Davidson's trip. Everyone interprets her actions differently, twisting her independent choices into shapes she never intended. Nonetheless, Jenny and Toly are a crucial support system in Davidson's practice trek.
Get the entire Tracks: A Woman's Solo Trek Across 1700 Miles of Australian Outback LitChart as a printable PDF.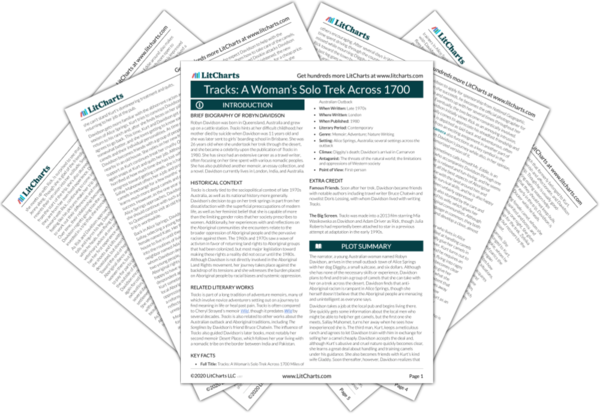 The walk to Utopia takes eight days through extremely high temperatures, which
Davidson
describes as "unspeakable hell." It quickly becomes clear that the equipment and saddles need improving, and the camels are not used to going without water.  Despite these setbacks, they eventually make it to Utopia, where Davidson stays for several weeks. She continues to adjust her equipment and plan for the trek, becoming more and more anxious all the time.
Again, planning and schedules turn out to be of limited use when it comes time to apply them to the realities of the natural world. Davidson is not yet prepared to accept that she can't control everything, which leads to anxiety that she can't resolve.
At one point during her time in Utopia, an acquaintance accuses
Davidson
of being a "bourgeois individualist," which she finds very upsetting. She wonders if it's wrong to want to take the trip on her own and feels that perhaps her very paranoia about the issue is essentially a bourgeois concern. Over time, she realizes that admitting weakness is itself something that's often called bourgeois, and wonders if the need to admit weakness is why so many politically liberal men struggle to reckon with their own sexism. Davidson also wonders why everyone she meets seems to be so invested in her journey, and feels that the trip has already lost the simplicity she intended for it.
The accusation described here provides a lens for linking the book's themes of individuality and femininity. Davidson is afraid of being perceived as arrogantly individualist, but at the same time, she suspects that her female identity is part of what makes her a target for others' criticism. At this point, she still perceives that identity as a liability, since it keeps her from obtaining the independence she craves.
While in Utopia,
Davidson
receives word that
National Geographic
has accepted her request for sponsorship. She knows that she needs the money from the magazine, but she also feels that she has sold out and wonders if she's made the wrong choice. The contract also means that
Rick
will sometimes be present to take photographs, which Davidson worries will ruin the solitude she had planned on.
Again, Davidson's aversion to accepting help or interference mars what would otherwise be happy news. Though Rick and the money will both be crucial supports, Davidson remains, at this point, devoted to the simplistic idea that independence and interconnection are opposites.
Davidson
flies to Sydney for an interview alongside
Rick
, and the magazine quickly finalizes the deal. Though she is briefly ecstatic, Davidson soon descends into self-doubt and misery. She thinks that even though Rick is nice and helpful, she doesn't want him—and his possible feelings for her—to interfere with her trip. She perceives that Rick's investment in documenting the trip is sincere, which feels like a burden to her.
Davidson shows here that it isn't just careless interference from others that bothers her; Rick's sincerity actually makes him more of a burden to her than he would otherwise have been. Caring, Davidson suggests, can be both a good thing and a bad thing. This complex idea foreshadows the more nuanced understanding of other interpersonal relationships that she develops during the trip.
Davidson
returns to Alice Springs, wondering if she's being unreasonable in her desire to keep her trip to herself. She continues her preparations, receives the money from the magazine, and sets a firm departure date. She also arranges when and where
Rick
will join her through the journey. Davidson is alarmed and excited to see how seriously everyone is taking her, as family, friends, and townspeople gather to wish her well. After much cajoling, she agrees to pack a two-way radio for emergencies, which she interprets as yet another "tiny symbol of defeat" in her efforts to make the trip truly her own.
As she prepares to depart, Davidson continues to feel conflicted about wanting to be alone; she senses that there may be more to the issue than she currently understands, again hinting at the conclusions she will reach later in the trip. This point also shows the upside of Davidson's fixation on creating order and sticking to schedules, as her efforts finally result in readiness to depart.
As she prepares to leave,
Davidson
's family comes to visit and she says emotional goodbyes to her father and sister, with whom she has had rocky relationships in the past. At last, Davidson walks out into the desert with
Diggity
and her camels and feels the magnificence of the world around her. Then, just as she begins to feel at peace, she rounds a corner and finds Rick taking pictures. Though she feels comforted to see a friendly face, she is also annoyed at the intrusion. After a final visit from
Jenny
and
Toly
at a campsite along the way, Davidson makes final adjustments to her pack, puts the camels into their line, and departs for the first full leg of her trek.
Davidson does not write in depth about her family relationships, but her mixture of happiness and sadness upon seeing them here indicates that she has, on some level, come to terms already with the idea that other people can be positive presences and negative presences at the same time (and also hints at unspecified reasons she decided to take this trek in the first place). This duality appears again when she sees Rick; he's a friendly face, but he's also an irritation. Davidson's moment of wonder at the world around her also hints at the understanding she will come to later in her journey, when she sets aside the order of civilization in exchange for the peaceful balance of nature.