During her first day alone,
Davidson
is overwhelmed by "a sustained, buoyant confidence." She follows a track that she expects to meet up with a main road later on. She notes that in Australia, tracks are defined as just about any mark made by a vehicle, and that they vary widely in quality and clarity. Sometimes it can be difficult or impossible to follow tracks, which can begin and end with little clear reason. Maps of tracks are also notoriously unreliable.
Davidson's suspicion that her maps may not be as useful as she hopes is an early sign of her slowly growing acceptance that she may need to surrender her commitment to approaching the trip in a clearly ordered way. The unreliable tracks also highlight the idea that things that seem sensible may actually turn out to be meaningless. This also alludes to the book's title: some tracks lead to places that one might not expect.
Nonetheless, the entire first day goes smoothly. The camels behave perfectly, and
Davidson
enjoys the bountiful life and exotic birds of the desert. She is slightly nervous at night, unsure of how far the camels might go in their hobbles. She ties
Goliath
to a tree, hoping that doing so will keep
Zeleika
and the other camels nearby. She describes some of the food she eats on the trail, including dried goods and freeze-dried meat and vegetables, a diet that she says keeps her very healthy.
Davidson's increasing appreciation of and comfort in the natural world will eventually become more meaningful to her than her own external ideas of success. This phase also begins to show Davidson that being a woman doesn't necessarily make her weak; she remains strong and thriving without outside help.
Davidson
settles into a routine as the days pass and describes her processes of waking early, feeding the camels and carefully balancing their packs, and meticulously repacking all of her supplies. She keeps to a relatively strict schedule of covering 20 miles per day, so that she can avoid traveling in the summer and keep to the schedule that she gave
National Geographic
. She expects the trip to take about six months, or as much as eight if necessary.
Here, Davidson is still reliant on her strict schedules, even though sticking to them puts her at some remove from the natural world she is growing to love.
National Geographic
's role here also shows how influence from others can sometimes reinforce these artificial structures.
On the third day,
Davidson
finds a road that isn't on her map, while discovering that the road she expected is nowhere in sight. Again, the failure makes her doubt her navigational abilities and she wonders what will happen if she makes a similar mistake when she's much farther from civilization. She manages to calm her panic and walks out scouting for the road she wants, which she finally finds after hours of confusion. She sets her course for the Aboriginal settlement of Areyonga and continues.
This incident reveals the limitations of the careful plans that Davidson has relied on so far. At this point, she views these limitations as a failure, not yet seeing the value in submitting to the seemingly chaotic world around her. Her fear of getting farther away from civilization also shows how connection to other people does comfort her, even as she tries to reject it.
Get the entire Tracks: A Woman's Solo Trek Across 1700 Miles of Australian Outback LitChart as a printable PDF.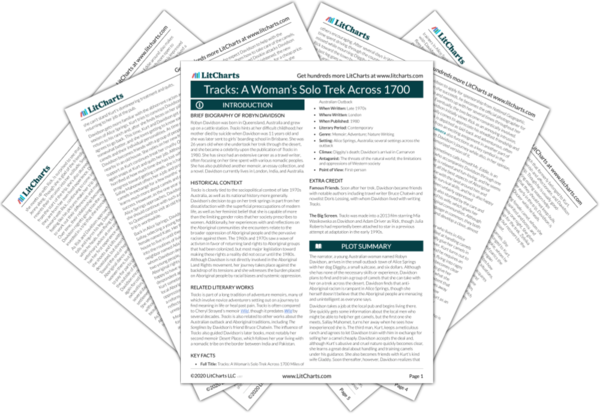 Upon arriving in Areyonga,
Davidson
recounts the brutal colonialist history of the settlement and describes how little autonomy and resources the Aboriginals have been left with. The children of the settlement greet Davidson joyfully, which immediately improves her mood. She reflects that Aboriginal children always seem more loving and well-behaved than white children. She finds that her camels and the enthusiasm of the children give her a crucial bridge in relating to the residents of the settlement, where she stays for three days.
Davidson's experiences in Areyonga add new depth to her understanding of the racism facing the Aboriginal people.  Her reflection that the settlement's children seem better behaved than white children also suggests that their culture may have much more value than common, racist opinions would suggest. Building connections with the Aboriginal people also gives Davidson the beginnings of a new perspective on others' role in her journey; here, other people are a relief and a comfort rather than a burden.
After some rest and further repairs to her equipment,
Davidson
and the camels depart for Tempe Downs station, 40 miles away. During this next leg, she is overcome by the "awesome grandeur" of the desert and finds that the landscape is beautifully varied and interesting. One day,
Bub
panics when something falls off his pack and frightens the other camels. Davidson manages to calm them all, but she has to beat Bub to do so and feels frightened at her own terror and lack of control.
Just as the splendor of the world around her begins to loosen Davidson's fixation on strictly scheduled progress, the incident with Bub makes her more afraid than ever of what will happen if she loses control.
As a result of that incident,
Davidson
learns that she has to trust herself to handle emergencies and also needs to reassess her understanding of time on the journey. She notices that her devotion to checking her
clock
and following a schedule has added unnecessary stress, but also notes that she is "afraid of something like chaos." She reaches Tempe Station shortly thereafter and, after a brief break there, continues onward.
By noticing her tendency to rely so much on her clock and defining her fear of chaos, Davidson takes an important step toward recognizing the downsides of a highly ordered perspective. At this point, she sees that other perspectives are possible, but she cannot yet bring herself to adopt them. Her growing realization that she needs to rely on herself more also ties into her sense of her female identity, which has previously seemed like a weakness but has now begun to feel like a source of strength.