From the start of her trip, Robyn Davidson's identity as a woman functions as both an obstacle and an asset. Within society, including Alice Springs and some of the towns she visits during the trek, being a woman leaves her vulnerable to threats that men do not face. However, during her time alone in the desert, Davidson realizes that this weakness is not an inherent quality of her or any other woman; rather, it is socially constructed and dependent on the views of others. By using her trip as an opportunity to gain new perspectives on her female identity, Davidson comes to a deeper understanding of her own strength and the ways in which she can redefine womanhood as a powerful identity rather than a vulnerable one.
In Alice Springs and even before the start of her journey, Davidson experiences rampant sexism and misogyny in her day-to-day life, which sometimes makes her feel threatened and unsure about her choices. Working in the bar in Alice Springs, Davidson reflects on the long history of misogyny in Australian culture and writes that she is "devastated" and "really frightened for the first time" when a customer warns her that she shouldn't be friendly because she's likely to get raped. Davidson's other experiences in Alice Springs reinforce the dominance of men and masculinity. Her abusive boss Kurt is an especially vivid example, and Davidson watches as he terrorizes his kind wife Gladdy, who becomes Davidson's friend. Gladdy eventually leaves Kurt, but witnessing the difficulty of this process and the pain it causes Gladdy is just one of many ways in which Davidson learns that misogyny is inescapable in modern Australian life.
However, once Davidson is alone in the desert, she finds herself feeling stronger than she ever has before and begins to see how conventional femininity is a product of a toxic society rather than a function of women's inherent character. Early in her trip, Davidson muses that even though she knows it's important for women to "become politically articulate," she also thinks it might be helpful for men to use "the perceptive language commonly attributed to the female." Even at this early stage, Davidson senses that nothing is truly "male" or "female"; rather, individuals work together within society to label characteristics along gender lines. As she walks alone through the desert for long stretches, Davidson wonders more and more about the way that society needlessly places things into categories of good and bad, appropriate and inappropriate. For her part, she comes to feel that even though she is unwashed, sunburned, and totally unaccustomed to social convention, she is nonetheless free and happy in this natural state. She even notes that she is no longer ashamed of her menstrual blood, but wonders if it will still make other people "confused and unhappy." Learning to exist as simply human, Davidson sees the full ridiculousness of her society's rigid gender expectations. After she discovers the press coverage of her journey, Davidson is frustrated at the "camel lady" moniker the reporters give her and the diminutive connotations it carries. When suddenly seen through the eyes of others, Davidson's trek becomes a symbol of eccentricity and deviance rather than strength and courage. Noting that her trip would certainly have been viewed differently if she were a man, Davidson reflects that her culture causes any girl or woman to be "kept imprisoned inside her notions of self-worthlessness," regardless of her own actions and choices.
Davidson's experiences with women in the Aboriginal communities throughout her trek contrast starkly with her own society's misogyny and sexism. She sees that Aboriginal women are often respected and powerful members of their communities, and as a woman herself, she usually feels safer and more comfortable in Aboriginal settlements than in the other communities she experiences. This vivid contrast underscores the idea that femininity and gender norms come from social expectations and the perceptions of others, not from any biological determinant. Watching her older Aboriginal friend Eddie interact lovingly with his wife, Davidson is struck by the tenderness and respect he shows her. From that point onward, Davidson begins to understand that even though white male anthropologists would argue otherwise, women are actually very powerful in Aboriginal communities. Davidson also notes that while sexism is still present in these communities, she believes it exists only because of the influence of white colonizers, who demonstrated toxic masculinity and encouraged Aboriginal men to embrace it. Upon returning back to her own mainstream society, Davidson keenly feels the conflict between her new understanding of femininity and the misogyny that suffuses her world. Though she feels lucky to have the memories of the insight she gained in the desert, she is also aware that no one woman—herself included—can fully shed the burdens of identity that society constructs.
Related Themes from Other Texts
Compare and contrast themes from other texts to this theme…
Femininity and Society ThemeTracker
The ThemeTracker below shows where, and to what degree, the theme of Femininity and Society appears in each chapter of Tracks: A Woman's Solo Trek Across 1700 Miles of Australian Outback. Click or tap on any chapter to read its Summary & Analysis.
How often theme appears:
chapter length:
Get the entire Tracks: A Woman's Solo Trek Across 1700 Miles of Australian Outback LitChart as a printable PDF.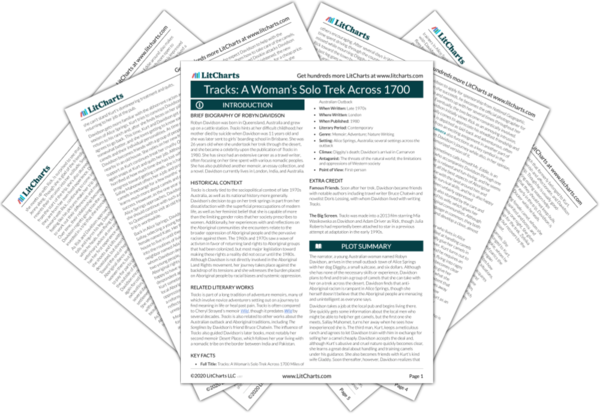 Femininity and Society Quotes in Tracks: A Woman's Solo Trek Across 1700 Miles of Australian Outback
Below you will find the important quotes in Tracks: A Woman's Solo Trek Across 1700 Miles of Australian Outback related to the theme of Femininity and Society.