Eddie
and
Davidson
walk together for two days, enjoying each other's company. Davidson admires Eddie's warmth and intelligence and thinks about how grounded Aboriginal people like him seem, in contrast to their reputation as "uncivilized." She also recognizes that she needs to speak with someone at length about her experiences, and because Eddie speaks little English, Davidson looks forward to meeting up with
Glendle
, the white community advisor in the nearby settlement of Pipalyatjara.
Davidson's enjoyment of Eddie's company, along with her open desire to connect with Glendle at the next stop, demonstrates that she has reached a new way of thinking about other people's involvement in her trip. She no longer has to be totally independent to feel successful. Additionally, her friendship with Eddie provides an immediate, personal perspective on her growing conviction that Aboriginal people may be wiser than white people in many ways.
Davidson
and
Eddie
arrive in Pipalyatjara and meet
Glendle
, a kind and caring man who welcomes them into the caravan where he lives. Davidson still feels like she must be going crazy, but realizes that people out in the desert might not care; she thinks that they may all be a little crazy themselves. They stay with Glendle for four days, with Davidson enjoying the comforts of sleeping in a bed and having friendly company.
The warm rapport that Davidson develops with Glendle underscores her new willingness to accept support from others. Similarly, her realization that everyone out in the desert might be somewhat crazy diminishes her conviction that she's unique; being independent seems less important when she knows that others share her experience.
While staying with
Glendle
,
Davidson
gets a deeper sense of how challenging it is for Aboriginals and community advisors to manage their settlements with minimal resources from the government. Glendle wants to be as helpful as he can, but he is hindered by bureaucracy and by having to handle many aspects of the settlement without help. He also struggles with wanting to protect the Aboriginal people he works with, without becoming what Davidson calls "a paternal-style protectionist."
Perhaps more than any other part of the book, Glendle's experiences working in the settlement illuminate the complexities of the pain caused by white oppression of Aboriginal people. His relationship to the settlement's people also shows how interdependence can be both a good thing and a bad one; he wants to help, but he does not want to take away the people's independence, a dynamic that mirrors Davidson's thoughts about involving other people in her trip.
Davidson
also notes that Pipalyatjara is lucky in that its population comes from only one tribe, while other settlements have to deal with inter-tribe tensions and dynamics in addition to all the other difficulties. She also comes to understand how complex the issue of land ownership is for Aboriginal people, in part because they do not see themselves as having ever owned land; rather, the land owns them. At the same time, outside forces seek to take ownership from the groups who have traditionally been its stewards. Because the Aboriginal people have such a deep spiritual connection to their land, Davidson points out that taking their land is the same as "committing cultural and…racial genocide."
Davidson's analysis of the violent nature of white colonization illustrates how deeply Aboriginals have been harmed by this oppression. From this passage, it is clear that the problems Aboriginals face are not of their own making; rather, they are the product of larger societal forces. Additionally, Davidson's new understanding of Aboriginal people's relationships with the land expands her developing perspective on how the land might be able to guide and support her own journey.
Get the entire Tracks: A Woman's Solo Trek Across 1700 Miles of Australian Outback LitChart as a printable PDF.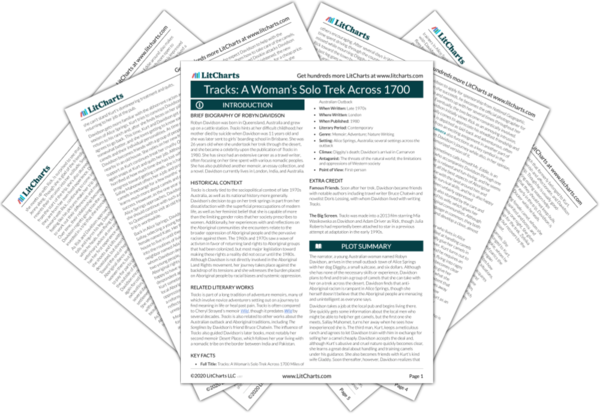 Glendle
also helps
Davidson
work through her own difficulties around the trip and, in particular, her relationship with
Rick
. Glendle points out that Rick has been a good friend to Davidson and that she was the one who invited him and
National Geographic
to be part of the trip, which comforts Davidson and helps her become less angry about their intrusions into her solitude. Davidson enjoys staying with Glendle so much that she contemplates staying through the rest of summer, but she feels restless and decides that she will move on soon.
Glendle's influence is a crucial factor in helping Davidson resolve her conflicting feelings about Rick and, more broadly, allowing her trip to be documented for outside consumption. Through his own support, Glendle also demonstrates how comforting and empowering collaboration with others can be.
Meanwhile,
Eddie
continues to be a steadfast guide and also becomes fixated on
Davidson
's rifle, which he is fascinated by. One evening, an old woman arrives to visit Eddie and he greets her with joy and respect. After she leaves, Davidson is astonished to learn that the woman was Eddie's wife. She reflects that although white male anthropologists might not think so, women actually have a lot of authority in Aboriginal societies. Unlike in those in Alice Springs, the black women she meets in the settlements have a lot of social standing, and Davidson thinks that the sexism in Aboriginal societies comes from the influence and example of white colonizers more than anything else.
Witnessing Eddie's loving encounter with his wife sheds new light on how societal biases and prejudices impact both race relations and gender relations. From the interaction, Davidson sees that it is possible, in the right context, for femininity to be a source of strength and power. Similarly, she gains new insight into the wisdom of Aboriginal social structures and sees how their negative aspects can be traced back to white oppression.
To
Davidson
's delight,
Eddie
decides to accompany her another 200 miles to the next settlement, Warburton. Before they leave, Davidson watches as an Aboriginal doctor (called a
nankari
) makes sure that Eddie is healthy for the trip. Though Davidson does not understand how
nankaris
do their work, she believes that they're as effective at healing as Western doctors are. When they depart, Davidson is at first annoyed by multiple delays and deviations from their schedule, but in Eddie's company, she gradually learns that that it might make more sense to let go of her devotion to order and try to approach the trip in a less structured, more meditative way. She notes that Eddie teaches her about "enjoying the present."
During this stretch of her journey alongside Eddie, Davidson begins to integrate some of her changed beliefs about working with others and the wisdom of Aboriginal perspectives. Most critically, the more open mindset that she develops through getting to know Eddie helps her finally release some of her fixation on schedules and concrete concepts of progress.
As they continue toward the next settlement,
Davidson
continues to enjoy
Eddie
's company and is amazed by how well they get along with little spoken language in common. She admires the way Eddie knows the landscape intimately and is "at home in it totally." She is thrilled by the chance to get to know the land better with Eddie to help her notice its subtleties. They settle into a companionable routine, and Eddie continues to educate Davidson about the traditions and knowledge of his culture. In particular, he tells her that she must never eat or harm a kangaroo, but they do work together to shoot and eat rabbits.
As their time together continues, Davidson comes to internalize the idea that order and chaos are not necessarily opposites. She had previously believed that the natural world was full of chaos that she needed to control, but now she sees that it actually has its own order that she simply needs to observe and appreciate. Again, this change is due in large part to her acceptance of Eddie's support, as well as the meditative perspective he brings from his Aboriginal culture.
Eventually, they cut back to the main road and begin seeing cars along the way.
Davidson
notices that all the cars of Aboriginal people stop to chat and laugh with
Eddie
, and she's happy to gain acceptance into their community through his company (and through her camels, which they also love). Whenever they stop to socialize, Davidson is treated as an honored guest. In contrast, they also begin seeing tourists again, who are fascinated by the two of them and their wild, unkempt appearance. Davidson is annoyed by their attention and, in particular, how disrespectfully they treat Eddie. At one point, Eddie pretends to be an insane savage to frighten a group taking pictures, which makes both him and Davidson laugh hysterically. Davidson is inspired by the fact that even though Eddie's hard life has given him every reason to be bitter, he remains upbeat and joyful.
Once Davidson becomes fully open to the idea that interconnection with others can make her trip richer and more satisfying, she finally gains the acceptance from the Aboriginal people that she has craved all along. The contrast between her treatment by the Aboriginal people and the white tourists underscores the fact that healthy relationships depend on social context, and Davidson sees again how Aboriginal cultures foster this kind of supportive connection better than white Australian culture does. Reflecting on Eddie's resilience, Davidson realizes even more fully that his version of independence doesn't mean being separate from others; rather, he is a strong individual because of his connection to the land and to other people.
As they approach Warburton,
Davidson
encounters two young white men on bikes and, while trying to talk to them, she realizes how difficult it has become for her to "swap realities" between Aboriginal and European ways of thinking. The incident makes her see how desocialized she has become in recent weeks and wonders how she'll ever meet her own society's ideas of sanity and happiness, since she now feels happier than ever but knows that she will look bizarre to people from the "civilized" world.
Reaching the end of her journey with Eddie, Davidson begins to feel some of the conflict between mindsets that will plague her when she returns back to mainstream society. The social pressures of her home culture may be nonsensical, but they're still very real, and her worry about her appearance hints at the way that her female identity will become a burden again after the trip.
Davidson
and
Eddie
soon arrive in Warburton together. Eddie suggests that she find another old man to go with her on the next stage of her journey, but because it will be through the wildest desert yet, she wants to do it on her own.
Rick
finds them soon after they arrive, bringing with him a rifle as a gift for Eddie. Eddie loves the new rifle, but is confused about why Rick has to take so many pictures with his
camera
. Davidson tells Rick to stop photographing, which leads to tension between the two. She reflects that while she later ends up loving the photos Rick took, she never feels that they really reflect the reality of her trip.
Eddie's confusion at Rick's photography highlights Eddie's approach to the world, which Davidson has now adopted: it is more important to live in the moment and appreciate what's around you than it is to try and document or structure it. This tension over the camera acts as a stand-in for Davidson's nervousness about opening herself up to interconnection within oppressive social structures. She is comfortable sharing herself with Eddie and Rick because she knows and trusts them, but she already fears what will happen when the pictures give the rest of the world a window into her journey.
Warburton turns out to be a gloomy town, but
Davidson
nonetheless enjoys her time there.
Glendle
arrives to drive
Eddie
back home, and the three of them, along with
Rick
, spend hours talking with each other and the residents of the settlement. Davidson feels like the trip is finally going the way it is supposed to, and that even her deepest consciousness has been altered by walking so devotedly, day after day. She even experiences old memories resurfacing, and she and Rick tentatively agree that they're experiencing a kind of magic. Davidson looks back on this conversation ruefully, unable to believe that she once spoke in terms of fate and magic.
Despite all of her misgivings about involving them in the first place, it is this time spent among close friends that gives Davidson the greatest sense of peace she has experienced so far. Rather than constraining her, these relationships actually free her from her desire to control and schedule everything, making her feel more independent than she would have if she were actually on her own.