The complex relationship between white Australians and Aboriginal Australians (often called black) is a constant concern for Robyn Davidson throughout her trip. She begins her story feeling abstractly concerned about Aboriginal rights, but without a clear idea of how she fits into this tension. As her journey progresses, however, she becomes intimately familiar with Aboriginal communities and begins to see the depth of their oppression under white Australians. Furthermore, Davidson finds that the Aboriginal people she meets are often far wiser and more peaceful than the white-dominated society she left behind, even though white narratives depict Aboriginals as savage and uncivilized. This sharp contrast between cultural narrative and lived reality illuminates the Aboriginals' oppression and shows that, like misogyny, racism is an unjust social force rather than a material truth.
Davidson's first impressions of the Aboriginals she meets during her journey are filtered through the racist, fearful perspectives of white Australians in the outback. Though there are exceptions, most of the white people that Davidson meets view Aboriginal people as inferior and undeserving of respect. Davidson notices that all black people in Alice Springs experience both subtle and overt racism, from derogatory comments to unsuitable schools for Aboriginal students. Though she knows the situation is unfair, she's not sure at first how to involve herself or what she can learn from it. She befriends one particular Aboriginal child named Clivie, and witnesses how harshly he is punished for a small crime. Davidson sees Clivie as normal child who is essentially a victim of his circumstances, and his story is one of the first to drive home the idea that Aboriginals in the outback are at the mercy of white society, no matter how hard they may try to take responsibility for their lives. Davidson also makes friends with a kind Aboriginal neighbor, Ada Baxter. Ada treats her with more respect and humanity than nearly anyone else she meets in Alice Springs, which hints to Davidson that Aboriginal culture may actually be more "civilized" than white culture, even though dominant narratives state the opposite.
As her trek progresses, Davidson senses that she has a lot to learn from the Aboriginal people, though she's also aware of how her identity as a white person affects her connections. She is wary of becoming what she calls a parasite on them and their culture, but through careful acquaintance she comes to learn more about how the Aboriginal worldview offers valuable new perspectives. During her first few encounters with Aboriginal communities, Davidson suspects that she "could never enter their reality, would always be a whitefella tourist on the outside looking in." Her pain at this distance shows how wary the Aboriginals are of white people (and for good reason). Davidson eventually finds belonging with the Aboriginal community in large part through her friend Eddie, an older Aboriginal man with whom she gets along well and who accompanies her for a stretch of her trip. She notices that in addition to being kind and helpful to everyone around him, Eddie also seems complete and whole as a person, untroubled by the agonies that Davidson herself goes through. Along with making her feel that she has found genuine human connection across racial lines, Eddie also gives Davidson a glimpse of what she might be missing by seeing the world through a white, colonizing perspective. Eddie's deep connection with the land around them also rubs off on Davidson, and she realizes that through his eyes, "the land was not wild but tame, bountiful, benign, giving, as long as you knew how to see it, how to be part of it." This changed connection to the natural world is perhaps the most vivid example of Davidson's realization that the cultural narrative of Aboriginals as savages is only a myth; with Eddie, she sees that they are in many ways more civilized and stable than white people are.
By the time her trip is complete, Davidson has come to the realization that most of the problems surrounding Aboriginal communities—such as poverty and alcohol abuse—are, at the root, attributable to the abuses of white Australians. She finds that racism, rather than race, leads to negative outcomes, while Aboriginals themselves are tasked with coping with this inequitable burden. At various points during her trip, Davidson details the history of abuses carried out by white people on Aboriginal communities, including stripping them of their land rights and forcing them to live under the control of white missionaries. This history hangs over the narrative, underscoring the ways in which the Aboriginal people that Davidson meets have already been oppressed for generations before. Davidson's time in the community of Pipalyatjara is a particularly stark example of the ways in which colonization's effects persist in the present day. Even though Glendle, the white advisor of the settlement, is kind and well-intentioned, lack of resources and ineffective government oversight nonetheless mean that conditions in the settlement are poor. Large-scale oppression remains relevant on an individual and community level, as Davidson witnesses over and over again. Nonetheless, Davidson notes that individuals like Eddie remain happy and balanced, despite all that they and their communities have been forced to endure. She writes that "Eddie should have been bitter and he was not." Inspired by his example, Davidson resolves that she will try and avoid bitterness too, regardless of the difficulties she may face. For Davidson, the lessons that she learns through getting to know Aboriginal people are far more valuable than the social strictures of her home culture, even as white society continues to dominate Aboriginal communities.
Related Themes from Other Texts
Compare and contrast themes from other texts to this theme…
Racial Tension and Oppression ThemeTracker
The ThemeTracker below shows where, and to what degree, the theme of Racial Tension and Oppression appears in each chapter of Tracks: A Woman's Solo Trek Across 1700 Miles of Australian Outback. Click or tap on any chapter to read its Summary & Analysis.
How often theme appears:
chapter length:
Get the entire Tracks: A Woman's Solo Trek Across 1700 Miles of Australian Outback LitChart as a printable PDF.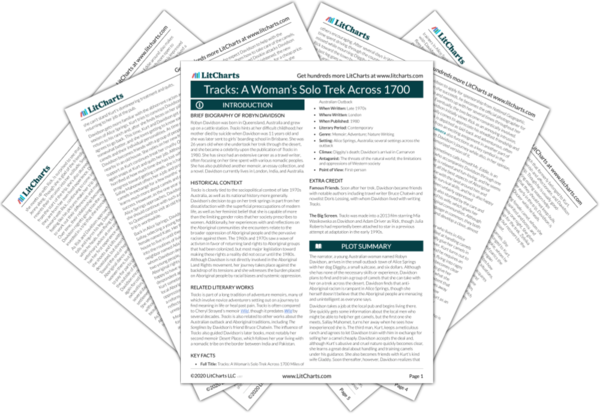 Racial Tension and Oppression Quotes in Tracks: A Woman's Solo Trek Across 1700 Miles of Australian Outback
Below you will find the important quotes in Tracks: A Woman's Solo Trek Across 1700 Miles of Australian Outback related to the theme of Racial Tension and Oppression.